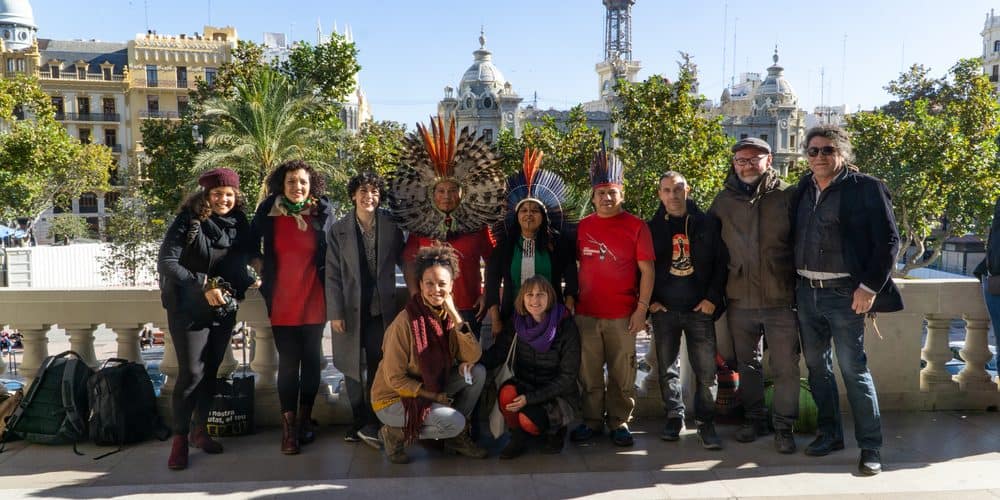 Between November and December 2019, we have supported the struggle of the indigenous peoples of Brazil, accompanying their official delegation in the final part of their European tour, in Barcelonaand Valencia (November 17 and 18 respectively) and at the Climate Summit of Madrid (December 8 to 10).
With the slogan "Indigenous blood. Not Another Drop.", this European tour organized by APIB (Articulation of Indigenous Peoples of Brazil) brought the voice of the Amazon to 20 cities in 12 European countries to denounce the "serious violations" against indigenous peoples and the environment in Brazil,since the inauguration of President. Jair Bolsonaro in January 2019.
The campaign was a call to defend the land and an opportunity to bring the current environmental problems in the Amazon to the table and to highlight the threats that plague this green lung of the planet. "Climate change, deforestation, droughts, fires. That is for us the road to destruction," warned the entourage.
Together with the leaders of this delegation, among which it is worth mentioning Sonia Guajajara– one of the visible faces of the global struggle for the environment, leader of the peaceful resistance to Bolsonaro's plans and the first indigenous woman to have opted for the vice presidency of the Brazilian Executive – Elizeu Guarani Kaiowá – from Mato Grosso do Sul – and Kretã Kaingang Kretã – of the Mangueirinha Indigenous Land, one of the promoters of the Tierra Libre Camp in Brasilia, the largest forum of the Brazilian indigenous movement -, we met with numerous institutional figures: the President of the Parliament of Catalonia Roger Torrent, the Mayor of Barcelona, the President of Les Corts Valencianes, Enric Morera, the Minister for Agriculture and Climate Emergency of the Valencian Community, Mireia Mollà, and the mayor of Valencia, Joan Ribó.
Furthermore, together with Rototom Sunsplash in organizing public events to spread the message of struggle of the indigenous peoples of Brazil. Among others: the conference at the Barcelona headquarters of Lafede.cat (Federation of NGOs of Catalonia), the visit of the Brazilian delegation to La Punta de Valencia, with the collective Per l'Horta in collaboration with CEAR (Spanish Commission of Refugee Assistance) País Valencià; the conference with Congress in Madrid with the Coordinator of Spanish NGDOs and Coordinator of Spanish NGDOs and Greenpeace Spain, and the demonstration in defense of human rights and the environment on the occasion of the Madrid Climate Summit, with Extinction Rebellion and Conciencia Afro.
Sharing meetings, talks, interviews, meals, smiles and hugs with people so committed to environmental and human rights was exciting and inspiring.
The struggle continues. As does our support for it. Not another drop!
"To save the Amazon is not to save the lives of the indigenous peoples. It is to save the existence of humanity". Sonia Guajajara.